MOONLIGHT BOWLING! @ 10:30 pm - 12:30 Am
Saturday November 18, 2023 the progressive strike jackpot will be $250.00. Come see our NEW LIGHTING!!!! Let the good times roll, let's bowl and good luck ..........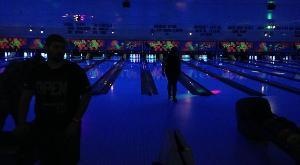 PRIZES!

RAFFLES!

SPIN THE WHEEL!

ALL UNDER THE MOONLIGHT!



Each person who does not win the progressive strike jackpot
will receive a free moonlight bowling certificate.



THE $100.00 STRIKE SHOT WILL BE THE PROGRESSIVE STRIKE JACKPOT. IF IT'S NOT WON, WE WILL CARRY THE $50.00 OVER TO THE FOLLOWING WEEK AND ADD $50.00 TO IT EVERY WEEK FOR A MAXIMUM PRIZE OF $1,000.00 UNTIL IT IS WON BY SOMEONE. ONCE IT HAS BEEN WON, THE PRIZE WILL REVERT BACK TO THE ORIGINAL $100.00 PRIZE AND THE PROCESS WILL START ALL OVER AGAIN.


*Get a chance to win prizes, bowling bucks, free game coupons and even a shot to try your skill at winning one of two strike jackpots!

**Reservations are not required but are highly suggested. Please be aware that if you do not have a reservation there is a chance we may not have lane availability when you arrive.**

**Reservations are easy to make! Just give us a call at (914) 737-4550. All we'll need is a name and how many people are in your party!**

**Parties of 10 or more must pay in full when making reservations for moonlight bowling**

**All guests for moonlight bowling are asked to arrive for check-in at 10:15 pm. Be advised that if you have a reservation and you have not arrived by that time, we may give your lanes away to one of our walk-in groups (if any).**

Cash, Checks or Credit/Debit Cards accepted. We also have an ATM on premises for your convenience.

*WE HAVE OPEN BOWLING ON SATURDAYS DURING MOONLIGHT BOWLING FOR THOSE WHO DON'T WANT TO MOONLIGHT BOWL.